Long Island is part of the great state of New York, the finest state in the United States. It is located in New York's southern tier. Long Island's proximity to the world's largest metropolis, which is a cultural mecca of art, history, music, education and sciences, along with the pristing beauty of the east end's white sandy beaches, vineyards and farms make Long Island a highly sought after destination.
Whether touring, visiting a while, or relocating, Long Island has a plethora of things to enjoy, do and be a part of, or to just find a quiet shore. If considering relocation to Long Island, Gold Coast Homes & Estates can help you find the right home located near your new employer, or any amenities that may be high on your list.
Here are some fun facts about Long Island, New York.. Firstly, though small in size, Long Island has the population of the 38 of the least populated states. There are plenty of people here. It is home to nearly 8 million residents.
Long Island's Historical population
Census
Pop.
%±
1790
37,108

—

1800
42,907
15.6%
1890
1,029,097
38.3%
1980
6,728,074
−5.8%
1990
6,861,474
2.0%
2000
7,448,618
8.6%
2010
7,568,304
1.6%
2012
7,686,912
1.6%
Long Island makes up 39% of the population of the state of New York, though a small fraction geographically. The physical Island includes four counties, the western two belong to the city of New York and are not considered by most to be Long Island (thought physically they are). Of the two counties Nassau being third going east, and Suffolk the eastern most, the population of the Nassau is significantly denser as are the two New York City burroughs of Brooklyn & Queens. Suffolk County is the largest and least populated and there is still vast undeveloped acreage and farms furthest east toward the east end.
Though The East End is part of Suffolk County, it is commonly referred to as The Hamptons on the south fork of the Island, and the North Fork, both go east in the shape of two long fish tails and are far less populated, and considered a haven and respite for tourists and second home owners the world over, and regionally. The population swings widely in May each year as people come to the east end for summer holidays.
Long Island has four seasons, snowy winters, spring, warm summers and fall. Here is a sample of the temperature over time on Long Island, as averaged over 16 years. Below is a sample of the record highs and record lows of temperature including average temperatures of the weather in Long Island NY.
Climate data for Islip MacArthur Airport (1984-2010)
Month
Jan
Feb
Mar
Apr
May
Jun
Jul
Aug
Sep
Oct
Nov
Dec
Year
Record high °F (°C)
69
(21)
67
(19)
82
(28)
94
(34)
98
(37)
96
(36)
102
(39)
100
(38)
93
(34)
88
(31)
78
(26)
77
(25)
102
(39)
Average high °F (°C)
39.0
(3.9)
40.6
(4.8)
47.9
(8.8)
58.1
(14.5)
68.0
(20)
77.1
(25.1)
81.9
(27.7)
81.0
(27.2)
74.1
(23.4)
63.7
(17.6)
53.7
(12.1)
43.5
(6.4)
60.7
(15.9)
Average low °F (°C)
24.0
(−4.4)
25.2
(−3.8)
31.4
(−0.3)
40.8
(4.9)
49.8
(9.9)
60.3
(15.7)
66.2
(19)
65.4
(18.6)
57.6
(14.2)
45.8
(7.7)
37.2
(2.9)
28.2
(−2.1)
44.3
(6.8)
Record low °F (°C)
−7
(−22)
1
(−17)
5
(−15)
23
(−5)
32
(0)
42
(6)
50
(10)
45
(7)
38
(3)
28
(−2)
11
(−12)
5
(−15)
−7
(−22)
Precipitation inches (mm)
3.63
(92.2)
3.16
(80.3)
4.50
(114.3)
4.07
(103.4)
3.86
(98)
4.07
(103.4)
3.52
(89.4)
4.09
(103.9)
3.59
(91.2)
3.84
(97.5)
3.66
(93)
4.01
(101.9)
46
(1,168.4)
Snowfall inches (cm)
8.1
(20.6)
6.9
(17.5)
4.2
(10.7)
0.6
(1.5)
0.0
(0)
0.0
(0)
0.0
(0)
0.0
(0)
0.0
(0)
0.0
(0)
0.5
(1.3)
5.1
(13)
25.5
(64.8)
Source: NOAA (extremes 1895–present)[23]
Long Island's economy is vibrant and there are boundless opportunities for career, and for business. The counties of Nassau and Suffolk have been long renowned for their suburban living with close proximity to NYC. Long Island residents are from all walks of life, regions and cultures.
Long Island was once a key aviation center of the United States, from 1930 -1990, with companies such as Grumman Aircraft, Fairchild, Republic, and Curtiss having their headquarters and factories on Long Island. Many having left, technology and business companies continue on though less manufacturing is done on Long Island. That suits many environmentalists as Long Island is unique in that it has a sensitive water recharge system and relies on on major aquifer for its fresh ground water.
Residential and commercial development were rapid during the 20th century on the east coast including Long Island. Planners and environmentalists worked to preserve key aspects of Long Island's environment.
Long Island's Politcal and environmental activism during the 1970's, 80's and 90's faced head on the tremendous expansion and population of this once rural farming island. Though development was inevitable.. Long Island residents are some of the most successful environmental advocates in the world. Few highly populated places have so many successful preservation stories as does Long Island.

As an island, water comes from a sole source aquifer, and recharges through the sensitive recharge zone. Land commonly referred to as the Pine Barrens is key to stablizing Long Island's water source. A thorn in the side of developers, Pine Barren Society fiercly fought to preserve thousands acres of open space along Long Islands inner ridge of trees and forest creating a green belt. Early planning from 1977 makes Long Island more sustainable today... read more..
Two other key environmental successes were first and formost the early efforts of Robert Moses, when encountering the city development pushing east, he interceded and created and entire parkway system, to create the ease of motor vehichle traffice he anticipated to be a big part of Long Island's future. Though some roads needed already were blocked with buildings, he did the neccessary work, to relocate families (to much criticisim) to plan for the bigger picture and future of many generations going forward.
Long Island preservation.. Of significant and lasting beauty are the many miles of unimpeded shoreline along Long Island's Ocean Parkway. Ocean parkway stretches many miles includes many beaches in both Nassau & Suffolk Counties. Private homes and cottages were not permitted to cluster along the many beaches, and instead today we have miles of gorgesous open skies and ocean frontage for all to enjoy as mostly public beaches. Most belong to the State, Counties and Towns, and can be accessed by locals and visitors. In sharp contrast is Coney Island, Long Beach and other areas where buildings crowd onto sandy beaches and condos, coops, and apartments go high into the sky mixing the feel of a beach with a city.

There is no doubt the balance created by Robert Moses for open space was one of Long Island's greatest planning achievements. As one of if not the world's greatest city planners, his memory lives on as the name sake for one of Long Island's most beautiful beaches.
A man of great controversy in his time, he was a simple man at heart swimming often into his golden years in the creek behind his house in Babylon, Long Island, NY.
His greatest detractorRobert Caro wrote a scathing though Pulitzer prize winning book on moses depicting him as The Power Broker..had this to say of Robert Moses passing at 92


"One must wait until the evening to see how splendid the day has been.''
I could not help but think how fitting was the line from Sophocles that Robert Caro had used to introduce his book about this great man - " ( Tom Morris, retired Newsday reporter & editor)

Long Island has played a prominent role in scientific research and in engineering. It is the home of the Brookhaven National Laboratory in nuclear physics and Department of Energy research.Long Island is also home to the Cold Spring Harbor Laboratory, which was directed for 35 years by James D. Watson (who, along with Francis Crick, discovered the double helix structure of DNA).
The East Coast's largest industrial park, is located in Long Island at the Hauppauge Industrial Park. More than 1,300 companies employing more than 71,000 Long Islandersare there. Companies in the park and abroad are represented by the Hauppauge Industrial Association. As many as 20 percent of Long Islanders commute to New York City jobs.

Various Long Island Farms on the North Fork. The eastern end of the island is active in agricultural. In the last 25 years, potato fields on the North Fork gave way to Long Island's vineyards as a major industry. The climate is similar geographically to the most renowned regions of France and highly suitable for grape growing. Traditional truck farming now includes pumpkin farms. Many North Fork Long Island farms allow fresh fruit picking by visitors and locals for much of the year. Consumer awareness of chemical pesticides and gmo farming have sparked awareness at many of Long Island's farms. Some Long Island North Fork farms are now organic. Many others state they use similar practices but cannot gain certification until the soil has a certain number of years past since using tradtional farming methods.
Long Island Fishing remains important industry, especially at Huntington, Northport, Montauk, Hampton Bays, and other coastal communities of the East End and South Shore.
Hampton Bays
has some serioius fishing on the east end. It's not about sail boats and motor yachts here, though there are plenty of leisure boats around. Shinnecock Canal area is located in of the Township of Southampton on the south shore of eastern Long Island about 30 miles west of Montauk and 90 miles east of New York City. I
n 1994 Shinnecock/Hampton Bays / Shinnecock processed more locally caught fish, than at any other commercial fishing port in New York
according to the National Marine Fisheries Service. Weighing in at
16.5 million pounds
, it was the most active fishing port on LI.
The Shinnecock Canal area of Hampton Bays is strategically located near the eastern most inlet in the barrier island system that protects Long Island's south shore from the ocean. This location provides fishermen with good access to productive coastal and offshore fishing grounds as well as to important high volume and high value markets. Shinnecock's access and proximity to the NYC & Hunts point market gives it ability to deliver a top quality product packed at sea. Fishing trips tend to be short,
fish are boxed at sea, and arrive at the wholesale market within hours
after the vessels arrive at the dock. Long Island fishing supplies a good portion of seafood for the regional markets.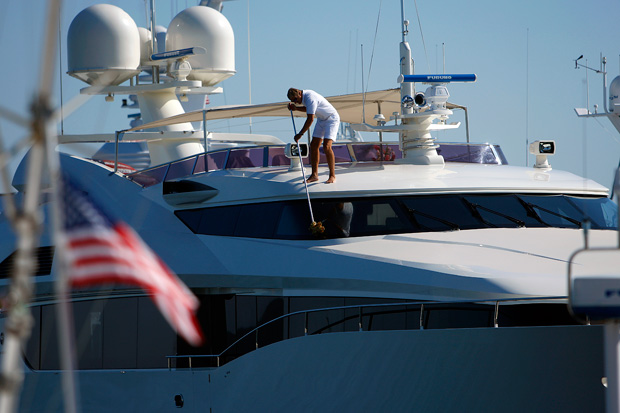 So you've heard about the Hampton's and want to see a Yacht.. well people bring all shapes and sizes of boats to various marina's on Long Island and the east end. The north fork and the Hamptons have marina's in most of the coastal villages.

Sag Harbor is mid point in the Hamptons, and between the two forks, on the north side of the south fork.. Sag Harbor, an eclectic village with a progressive artsy vibe. Nice art can be found in the local galleries, cute restaurants and eateries, beaches between the forks of the island on the Peconic (not the Atlantic Ocean) and a nice harbor. It draws many boaters in and a good number of impressive yachts. It makes for a nice place to stroll and enjoy as a tourist but less for kids.. Kid friendly but no real attractions for them other than the beach and some ice cream. Read on for where to wow the kids.